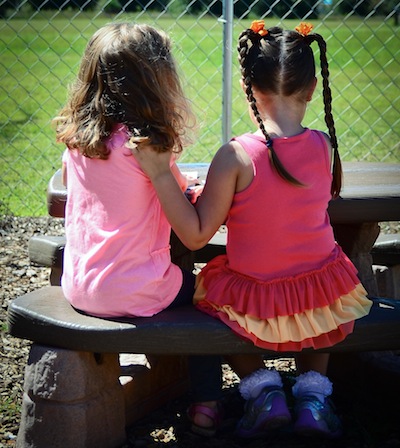 What to Expect at Faith Preparatory School...
Here at Faith Prep, children are given opportunities to learn new skills, develop their gifts and talents and appreciate God's creation. Our mission is to provide a high quality, faith- based educational program to young children, in a welcoming and loving atmosphere, where families are affirmed and strengthened.
Our curriculum is faith-based and developmentally age-appropriate. It is designed to meet the spiritual, emotional, social, physical and mental developmental needs of your child. We believe that play is the best way to teach your child. We provide structured time with learning activities developed around our monthly themes. All this, at an affordable price!
Faith Preparatory School is governed by a board of directors, managed on a daily basis by a Florida Voluntary Pre-Kindergarten (VPK) Credentialed director, with Florida VPK Credentialed teachers.
Faith Preparatory School does not discriminate on the basis of race, religion, national origin, color or sex.
Our Executive Director, Ericka Brown
Ms. Ericka is the Executive Director at Faith Preparatory School. Having a passion for children and having worked in the education field for a long time, this is a dream "job" come true!
She has an AS degree from the University of Hawaii and a b-zillion credits towards her Bachelors…one day (maybe before retirement) she'll get there! She has held every position at a preschool and believes each one has its benefits, and that each one has prepared her to do exactly what she is doing today!
Ms. Ericka and her husband Craig (aka: Johnny Appleseed, the Cat in the Hat, the Conductor and whoever else we dream up!) have 4 children. Tina and her husband, Laurence, live in Okinawa, Japan. They have two girls; Chelsea (who graduated college May 2018!) and Harlee is in the 10th grade. Darren and his wife, Becca, live in Alexander, NC (just outside Asheville) and have three boys, Davok, Kayden and Nakoa and newborn daughter, Aislynn. Justin and his wife, Lisa, live in Bristol, TN and have 2 children, Jackson and Peyton. Alysen and her son, Harrison, live in Port Charlotte. If you lost count… that's 9 grandbabies! Craig and Ericka visit them as often as possible!
They are a military family. Craig retired from the U. S. Coast Guard after 23 years active service. Son-in-law Laurence is currently serving on active duty with the U. S. Air Force. Daughter Alysen served nearly 6 years active duty with the U. S. Coast Guard. Ericka grew up in the military as her father was career U. S. Coast Guard, having served 27 years active service. ♥
Alysen Lucas
Ms. Alysen was born in Mobile, Alabama and three years later, moved to Honolulu for 5 years with her family. They returned to Mobile for a few years before moving to Florida in 2002. She attended Port Charlotte High School and graduated in 2007.
Ms. Alysen joined the U.S. Coast Guard in 2008 and served 6 years which allowed her to travel afar, including duty stations in Louisiana, California, and North Carolina. Ms. Alysen has the awesome memory and experience of being stationed on the same U. S. Coast Guard Cutter MORGENTHAU as her grandfather, 40 years later, to the month! Her grandfather was a USCGC MORGENTHAU "plankowner", an original crewmember. She was honorably discharged as an E5 not long after her son, Harrison, was born in March of 2014 and stayed at home for his first two years. She loved teaching him at home and was determined to make just about everything a 'teachable moment'. The joy of watching a little one grow and learn is something that stuck with her.
After moving back to Florida in April of 2017, she decided to pursue a degree in Early Childhood Education through American Military University, while teaching two days a week at Faith Prep. Ms. Alysen received her Associates Degree in Early Childhood Education in August 2018. Her son is also a Faith Prep student and has the blessing of letting these amazing teachers in his life, too.
Annie Sifrit
Ms. Annie is a new face to Faith Prepartory School this year, however, not new to their program! All three of her children have gone through Ms. Ericka's preschool and VPK programs and have grown leaps and bounds in confidence and development.
Upon completing high school locally at Charlotte High School, she went on to Florida State University where she majored in Finance. She and her high school sweetheart, Brett, married in 2003, and moved back to Charlotte County after Brett completed his Masters Degree in Tax at the University of Central Florida. She worked with an interior decorator locally and she and Brett began a family. During this time, Brett completed law school and now works at the Farr Law Firm doing Estate and Trust planning and Real Estate. They have three children, all attending Neil Armstrong Elementary. Corbin is ten and in fifth grade, Lily is eight and in third grade, and Walker is five and in Kindergarten. They love watching their children develop a love for learning, and watching how unique each child is!
In their spare time they enjoy traveling, attending their children's sporting events, being with family, watching Florida State football, and going to the beach. Ms. Annie looks forward to instilling a love for learning and loving one another, just as this program has done for her children.
Brenda Shine
Ms.Brenda earned a degree in Childhood Development Associate equivalency certification. She has been a member of NAEYC since 1999, UMAP since 2010, and has been teaching preschool since 1999. Ms. Brenda married her husband Cory in 1991. He works at Pepsi Bottling Company. They have 2 children, Cory and Ryan. She has a Maltese dog named Honey. She enjoys spending time with her family, grand babies , going to the beach, scrapbooking, watching football and basketball. She is a Nana to her grand babies Saige and Suray which are truly her bundles of joy and true blessings. Cory is a graduate of Culinary School and is working at Cheesecake Factory. He loves to cook and play basketball. Ryan is working at Wal-Mart Distribution and does car detailing part time with Vivid Mobile Detailing. He loves to play basketball and football in his free time. She is very involved in her church, Praise Tabernacle and loves serving God.
Dawn Davis
Ms. Dawn was born in Montréal, Québec, Canada and was raised in Toronto, Ontario, Canada. She has been serving the Lord in Children's Ministry in Canada and in the United States for over 20 years, and has acquired a wealth of knowledge and experience from seasoned mentors. She attended Bible College in Oshawa, Ontario and studied Theology and Early Childhood Education.
Ms. Dawn is married to Minister Roger Davis and has 3 daughters who attended preschool under the leadership of Ms Ericka Brown. She has had the opportunity to be a Girls Club Mentor and Youth Ministry Director and is currently teaching Sunday School and Bible Classes in her local church, at the preschool and at elementary levels. Ms. Dawn is enjoying her role at Faith Prep and is looking forward to the Lord's blessings there!
Heather Mesa
Ms. Heather was born in Port Charlotte. She graduated from Port Charlotte High School and Edison Community College. She previously worked for Charlotte County Schools.
She is married to Nelson and they have a teenage daughter named Bella. Their family also includes 2 English Bulldogs and a Boxer!
On the weekends, you can find them paddleboarding, cheering on the Miami Heat or just hanging out as a family. They are members of New Day Christian Church.
Jan Kraus
Ms. Jan was born and raised in Ravenna, Ohio, where she met her husband, Les. They were high school sweethearts and have been married 46 years. Ms. Jan attended Kent State University in Ohio and was a stay-at-home mom for many years with their 2 sons and 1 daughter.
The family moved to Port Charlotte in 1984 when Les was offered the position as Band Director at Port Charlotte Middle School. Jan worked as an elementary school para-professional for 26 years in the Charlotte County School System before retiring. During the past years, she completed many courses at Edison Community College, as well as sign language and computer courses through the Charlotte County Schools. She has completed DCF's Child Care Training Program.
Their son, Eric, and his wife live in Tampa and daughter, Kelly, her husband and 3 boys live in Seffner, Florida. Their son, Brian, and his wife live in Pittsbburg, Pennsylvania. One of her many blessings is being "Nana" to her three awesome grandsons, Aiden, Alex and Avery.
Reading is her favorite pastime, as well as Bible journaling, any type of crafting and collecting antiques. She and her husband are active members of Holy Trinity Lutheran Church in Port Charlotte. She feels very blessed to be working at Faith Preparatory School with the wonderful children and staff.
Kim Davis
Ms. Kim has her degree in Elementary Education with validations in learning disabilities and early childhood. She is a member of NAEYC since 1994, UMAP since 2010, and has been teaching preschool since 1988. In her free time, Ms. Kim enjoys reading, watching movies, all things zombies and Sesame Street. Ms. Kim married her husband Jeff in 1996. He is a physical therpaist at Fawcett Memorial Hospital's outpatient clinic. He enjoys golf, football and super heroes. Kim and Jeff have two children. Her son, Jacob, loves to read, write poetry, and enjoy manga comics. Her daughter, Becky, attends Charlotte High School. She is a golfer and a babysitter.
Michele Porcaro
Ms. Michele was born and raised in Westland, Michigan. She graduated from Livonia Franklin High School in 2000. Ms.Michele is a proud Army wife to her husband, Jeff. They married in 2004 and were stationed at Fort Benning, Georgia for four years. After Jeff's honorable discharge, they made their home in Punta Gorda in 2008.
In 2011, Ms.Michele and Jeff welcomed their son, Cash. Cash is a graduate of Faith Prep and attends Community Christian School, although he'd rather still be in Ms. Kim's class!
Ms. Michele credits Faith Prep and Ms. Ericka for helping her to find her "calling" of being a preschool teacher. She started volunteering when Cash was in the 3's class and fell in love with the preschool atmosphere and most importantly, the kids. She has been teaching the 3's class since 2015 and loves being a part of helping the students learn and grow each day.
When Ms. Michele isn't teaching or helping out at school, she enjoys spending time with her family, going to the beach (her favorite place), cooking and reading.
Michele VanderSpoel
Ms. Michele grew up in Long Island, New York, and has lived in Florida since she was twelve years old. Michele has been teaching preschool-aged children since 1997. During that time she earned her Child Development Association certification, Developmentally Appropriate Practices with infants and toddlers, Behavior Observation and Screening, and her Associates of Science in Early Childhood Education. Some of her favorite things to do with children are science activities, enjoying nature, reading stories, and just spending time with them!
Ms. Michele and her husband, Nathan, are newlyweds (April 2015). Nathan works for Cemex. He enjoys Jiu jitsu, fishing and spending time with his family. They have three sons, Chase, Logan, and Shane and a daughter, Jessa. Chase attends Port Charlotte High School, is on the HS track team and cross country. Logan is started high school last year, loves dance, traveling and is very computer savvy. Shane loves basketball, fishing, hunting and cars. Jessa is a smart, adorable and loving little girl who completes their family.
During Michele's "free time", she enjoys spending time with her big, wonderful family, going to the beach, camping, paddle boating and teaching preschool children. Ms. Michele say's she is honored to work at Faith Preparatory School of Lake Suzy and feels so blessed to be a part of this wonderful group. "Waking up every day and giving each student a safe and nurturing environment is one of the most rewarding professions; I love what I do!"
Tiffanie Love
Ms. Tiffanie is "a Jesus follower, a wife of 11 years, a mother of 2 boys and 1 girl, a fitness instructor and a first-year preschool teacher." She is a very high spirited, outgoing, and passionate person. Ms. Tiffanie say's she truly believes that God opened up a door for her at Faith Prep. She loves children and has a heart to show them that God loves them and died for them. Ms. Tiffanie's prayer is that she can help the children she comes into contact with everyday to grow mentally, but most importantly, spiritually by being a light in a dark world for them.
Tracey Sacilowski
Ms. Tracey was born in Long Island, NY. She moved to Port Charlotte in 6th grade, where she met her future husband Matt. After graduating from Port Charlotte High, Matt joined the United States Air Force. They lived in Missouri for 6 years and grew their family of 5 there while Ms. Tracey worked at the Child Development Center on Whiteman AFB.
After returning to Charlotte County to live closer to family, Ms. Tracey started to work for Ms. Ericka. All 3 of her children, Juliana, Elizabeth, and Joey, went through Ms. Ericka's preschool program. Ms. Tracey's husband, Matt, works as an Insurance Agent in Punta Gorda. Juliana and Elizabeth are very involved in competition dance and Joey is busy with baseball and basketball. Ms. Tracey and her family have been long time members of Deep Creek Community Church, where she is the coordinator for the 2-year-old Sunday School program. The Sacilowski's like to spend their free time with family, camping, fishing, and going to the beach.